60th Annual Francis J. Robinson Memorial International Tournament
August 1-6, 2017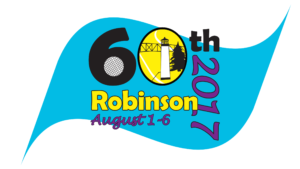 The Francis J. Robinson Memorial International Tournament is named after a local tennis player, Lt. Francis J. Robinson, a young serviceman who

died in a military flight training mission in July 1958. A group of Lt. Robinson's friends started a small tennis tournament in his honor that same summer. The "Robinson" has grown into a local event that has drawn between 200-400 participants annually, ranging in divisions from 10 & under to 60 & over and is considered one of the longest running community tennis tournaments in the United States.

Events & Activities begin Monday, July 31st. Read below for more information, how to register online, and details about our exciting week at the Robinson!
Highlights
Online Registration—For the second year, the Robinson entry process is automated! Follow the online registration link, create OR login to your account, register for your division(s), and pay online. Enjoy online access to report times, draws, and match results draws for each division!
Updated Age Divisions – Junior and Adult age brackets, levels of play, Mixer Division!

New 10 & Under Singles Orange Ball (Round Robin)
Age Brackets – 10U Orange, 10U Green, 14U, 18U, Open, 30+, 45+, 60+
Junior Tournament Level – For intermediate to advanced players with tournament experience
Junior Club Level – For beginner to intermediate players who have little or no tournament experience
Adult Mixer Division – Too competitive? Not competitive enough? Time constraints? Participate no matter your style – all are welcome in the Adult Mixer Divisions!

Casual format – Singles Mixer, Doubles Mixer, Mixed Doubles Mixer. Play one, two or all three Mixer Divisions!
Play one 8-game pro set against players with similar skill level
One evening per Mixer event (WED-Adult Singles Mixer, THUR-Adult Doubles Mixer, FRI-Adult Mixed Doubles Mixer)
Start times will be posted Monday, July 31st
Mixer Division players may register for Doubles and/or Mixed Doubles with OR without a partner. If you'd like play Doubles and/or Mixed Doubles but don't have a partner, Tournament Director, Steve Pillon will pair you up with another player!

10 & Under Kid's Play Day – All 10 & Under kids, with or without tennis experience, are invited! Contests, games, crafts, prizes, snacks, and refreshments! For details & entry form click 10 and Under Kid's Play Day Entry Form.
Open Eligibility – No residential restrictions for participation this year!
Match Play Schedule

Tuesday 8/1 – Open Singles and Womens Open Singles
Wednesday 8/2 – Boys Singles, Girls Doubles, Adult Singles, Adult Singles Mixer
Thursday 8/3 – Girls Singles, Boys Doubles, Adult Doubles, Adult Doubles Mixer
Friday 8/4 – All Mixed Doubles, 10 & Under Kid's Play Day, Adult Mixed Doubles Mixer
Saturday 8/5 – Semi Finals
Sunday 8/6 – Finals

Junior Rookies – Never played in the Robinson? First 50 junior rookie players enter the Robinson for FREE!
Special Guest 7/31 – Luke Jensen, former ATP player & French Open Doubles Champion hosts clinics and exhibition to launch our week!
Balls – Balls will be provided for all matches.
Daily Prizes – Player of the Day, Best Dressed Doubles teams.
Draws & start times – Draws & individual start times will be posted online on Monday, July 31st.
Follow the Registration link for details and instructions.
Information about our Special Guest, Luke Jensen, and his clinics & exhibition; contests; concessions and more on-site activities!
For approximate reporting times please review the 2017 Robinson Schedule of Play.