Be a part of the country's largest recreational tennis league! Teams are made up of five to eight players arranged by age and skill level. Competition and social atmosphere bring more than 800,000 participants onto the court nationwide to enjoy league, district, state, section and national level match play. Team tennis turns our "individual" sport into an exciting group experience!
During the indoor and summer sessions there are several competitive travel teams. You can form your own team or join an existing team, and current USTA membership is required to participate. Visit the USTA website for membership, NTRP ratings and team registration information.
Our USTA teams are part of the Southeastern Michigan Tennis Association (SEMTA) in the Midwest Section of the USTA. SEMTA is one of 14 Districts that comprise the Midwest Section which includes the following states: Illinois, Indiana, Michigan, Ohio, Wisconsin, and portions of Kentucky and West Virginia. SEMTA is made up of the following Michigan counties: Hillsdale, Lenawee, Livingston, Macomb, Monroe, Oakland, St. Clair, Washtenaw and Wayne.
2019 Winter Leagues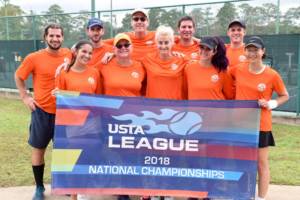 League Advancements
2018 Summer 9.0 Mixed 18 & Over – League Champs! District Champs! State Champs! MIDWEST CHAMPS! The team advanced to Midwest Sectionals on October 5 & 6 in Fort Wayne, IN where they won with a 3 & 1 record. Their only loss was to Indiana, and their total of 9 match wins and only 3 matches lost earned them the title. Congratulations! The team advanced to NATIONALS in Mobile, Alabama. WELL DONE!
On the team: Tracy Carleton (Captain), Justin Bourassa, Matthew Earley, Steve Pillon, Mark Walker, Allie Sweeney, Michael Cansfield, Samantha Palazzolo, Amy Tseng, Ann Smith, Maggie Bacheller, Annie Moore, Matt Wise, Andrew Schrand, Betty Latosinsky, Kim Miller, Claire Brooks, Madison Shortridge