Today's youth tennis programs make it easier than ever to introduce the game of tennis to kids! Any child can play tennis right away, even if they've never picked up a racket. Kid-sized equipment allows children to develop skills and learn to play tennis with less frustration and more fun. Smaller rackets, courts and nets plus low compression tennis balls fitting any child's size and age allow kids to begin rallying and playing within a short time. And they are excited to keep playing!
Stages of Play
Youth tennis programs adapt the size of the court, net, racket, balls to the size and strength of the player. Kids play the game like it's meant to be played, only smaller, and have fun while doing it! The scaled-to-size equipment allows kids to learn to play the right way from the start, learn all aspects of the game, and develop a love for the sport. The program includes three age-appropriate stages of play.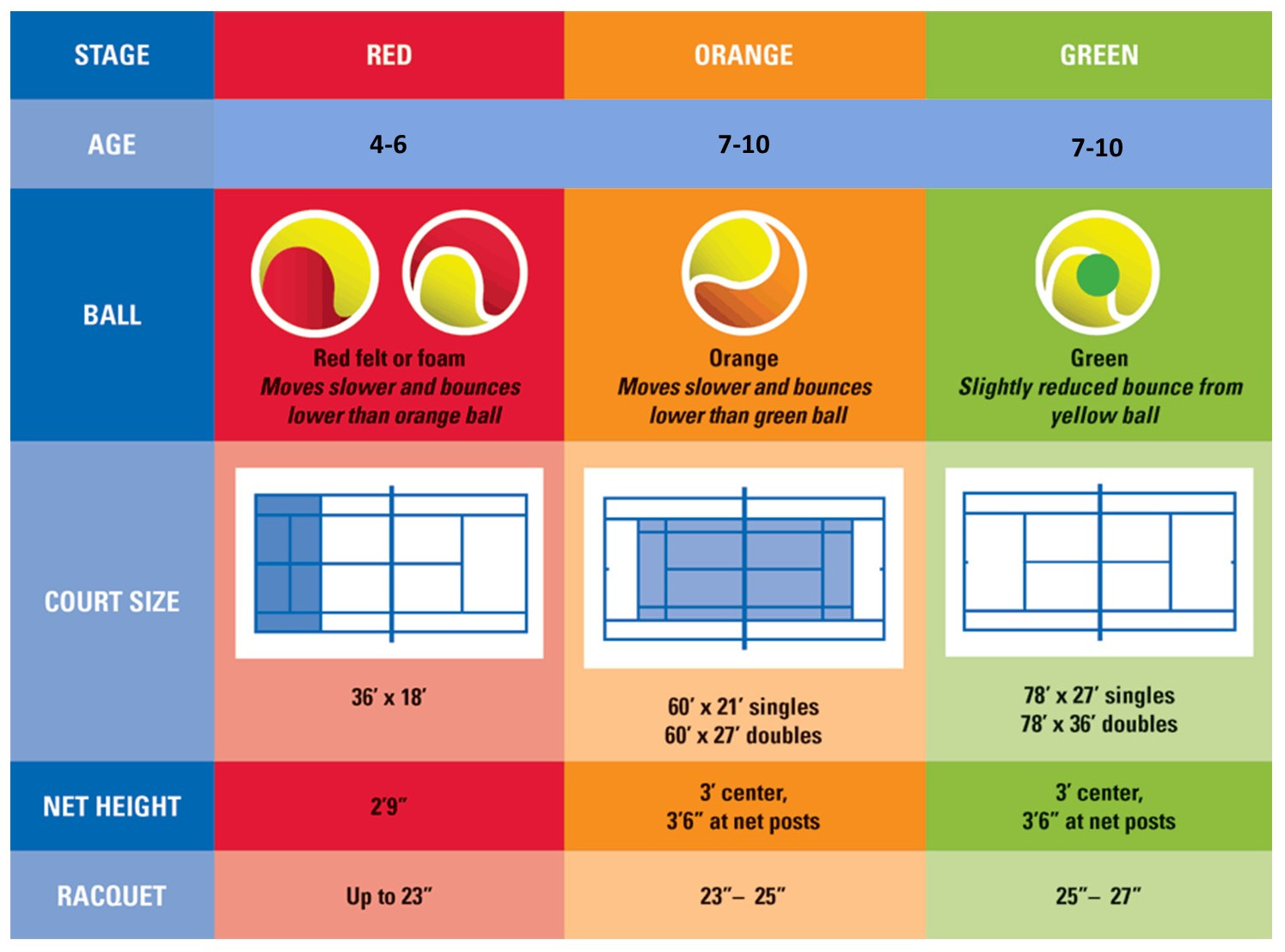 The first stage for ages 4-6 uses slower balls on a 36-foot court. Balls recommended for the 36-foot court include the red-colored foam or the low-compression red felt balls, which are 15% larger than regular, yellow tennis balls. Red balls rebound slowly off the racket and bounce much lower off the ground, allowing young children to swing freely while still controlling the balls with more success.
The second stage moves players ages 7 to 10 to a 60-foot court using orange balls, which have approximately 50% the compression of yellow tennis balls. It is important to move to the second and third stage based on the pace of the player. Age is one of the many factors in deciding to move a player onto a bigger court with a faster, higher rebounding ball. The Pros will watch each child's physical, technical, mental and tactical development so recommendations of advancement to the next stage are on an individual basis.
The third stage brings players to a full 78-foot tennis court using the green ball. Green balls have about 75% the compression of yellow tennis balls which provide for a little extra time for players to react and prepare for each incoming ball, while developing their skills covering a full court. Adapting to the green ball and full-size court will allow kids to naturally adjust their contact point while developing court positioning technique and strategy. The Pros will recommend progression to the yellow ball as players show evidence of mastering the green dot stage.
The Port Huron Tennis House has a variety of lessons and clinics for all kids ages 4 and up. Visit our Juniors page for more information or call us at (810) 987-6868 to discuss introducing your child to tennis.