Our Fitness Room, located next to our back courts, is furnished with a variety of equipment to accommodate your strength, cardio or conditioning workout. The Fitness Room is available to all PHTH tennis members. We are also fortunate to have certified personal trainer, Karen Basha available to provide individual and small group fitness training. Karen is certified by the National Academy of Sports Medicine (NASM), and her programs are designed based upon your goals and conditioning levels to improve your fitness, your footwork and your frame of mind! To register for a class or set up your personal training appointment, Call Karen direct at (810) 434-7054! Fitness Room Memberships ($50) are also available to Karen's clients.
Access to the fitness area is available to all Tennis House members 16 years of age and over. Anyone using the Fitness Room under the age of 16 must be accompanied by a parent or guardian.
Personal Training
Whether you are just beginning an exercise program or continuing an established routine, Karen's personal training sessions begin with an assessment of your current fitness level. After developing a baseline and identifying your personal strengths, as well as areas needing improvement, Karen will combine the results and your individual goals to form a targeted fitness program to get you across your finish line. Personal training sets up your routine and helps you achieve your goals!
Plan your workout
Avoid injury or rehabilitate after injury
Add variety to your workouts
Get great new ideas for motivation

If your routine needs updating; if you're in an exercise rut; or just not seeing results; Karen's personal training can revitalize your workout! Karen offers a variety of customized training options to fit your budget, including one-on-one, semi-private, or small group training. And when time is your biggest reason for not getting in your workout, try a half-hour session – affordable for your time and finances! Please complete the Personal Training Waiver & Waiver of Liability, and bring to your first workout.
Karen, our Fitness Pro, promotes functional fitness – the best way to get a great workout and train your body for everyday living whether you are a beginner, senior, or athlete. Functional fitness is achieved through the use of body weight exercises, free weights, stability balls, resistance bands and kettlebells. Karen also incorporates stretching exercises into your workout which improve flexibility and help prevent injury. She enjoys creating "yummy" circuits that are fun and challenging for clients of all ages and fitness levels.
Circuit Court
w/Karen &
Coach Tiff
Fitness & Cardio Tennis Bootcamp
$25/day — 6 player minimum /8 max
Check back for available days/times for the 2021-2022 Indoor Season.
Build strength, fitness & your strokes through a variety of exercises & drills!
Any level of player or fitness enthusiast – Ages 18 & Over
Please cancel by 6pm the day before if you can't make it!
We'll offer your spot to someone on the waiting list.
Thank you!
Fitness Training Rates


Small Group Classes for 2-6 participants

Individual

1 hour

$50

Individual

1/2 hour

$25

2 Person Group

1 hour

$30

2 Person Group

1/2 hour

$15

3 Person Group

1 hour

$25

4 Person Group

1 hour

$20

5 Person Group

1 hour

$18
Karen Basha, Fitness Pro.
Karen has a passion for health and fitness and will
help you reach your fitness goals!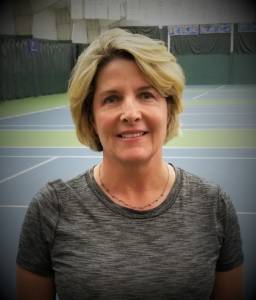 Karen is an NASM (National Academy of Sports Medicine) Certified Personal Trainer and group fitness instructor with over 15 years of experience.
Karen is specialized in Corrective Exercise, Women's Fitness, and Senior Fitness, as well as being a Registered Yoga Teacher.
She also has a Bachelor of Science degree in Nursing from Wayne State University.