Events & Activities information will be updated as the Robinson approaches and during Robinson week. Check back for new details!
Warm up for the Robinson
Tuesday, August 2nd @ 5-6:30pm
Adults and juniors, included with your entry fee is a free warm-up and practice session with Coach Steve! Games, drills, or match play while getting last-minute tips before the tournament! Call the front desk at 810-987-6868 to register.
One Point Tournament
Tuesday, August 2nd @ 6:30pm
One Point Tournament – Tennis fans, all ages, all skill levels, can get in on the action! Players enter for $1 (register at the front desk in the Tennis House). There are no seeded players in this draw, and it's all or nothing! Opponents play one point; winner advances to the next round. Champion receives the cash prize!
CONGRATS to Andrew Davies who won the One Point Tournament!
10 & Under Play Day
Friday, August 5th @ 2:30-4pm
Kids, join in for a FREE non-elimination format play day and get a free t-shirt for participating! Kid-sized courts & equipment makes it fun! Rallies start right away with 36 foot Red ball courts and 60 foot Orange ball courts using smaller rackets and low-pressure balls. Kids gain experience in a no-pressure environment! Contests, crafts, games, prizes, refreshments, snacks and most of all, FUN!
For more details and to sign up please download the 2016 Robinson 10 and Under Play Day entry form. Entry deadline is July 29th. Visit our Youth Tennis page for more about Quick Start tennis and ROGY-style play.
We had 55 Ten & Under kids Friday afternoon for Kid's Day! It was extremely hot on the court, but that didn't stop them – a fun day playing games and winning prizes! Coach Steve wants to give a big shout out to all the volunteers who helped make it a huge success! Thank you!
Daily Prizes
Awards were given to the Player of the Day and Best Dressed Doubles & Mixed Doubles Teams!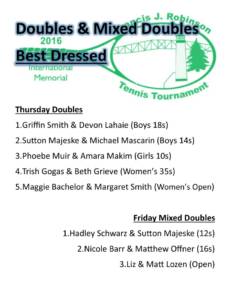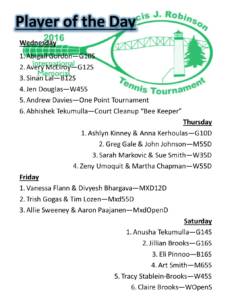 Concessions
Daily 10am-3pm and 3pm-8pm (times may vary)
Kate's Downtown will provide morning/noon hour concessions offering items such as wraps, sandwiches, fruit, granola bars, protein bars, sweet treats, smoothies, iced coffees and beverages.
Big River BBQ will be at the courts firing up the grill in the afternoon! The menu will include burgers, hot dogs, brats, and beverages.
Sunday Brunch
Sunday, August 7th
The last day of the Robinson begins with Sunday Brunch and the Finals. The Port Huron Tennis House invites everyone to bring a dish to pass, share a meal, and watch the finalists compete for the championships during an all-day BBQ! The Tennis House will provide hamburgers, hot dogs and brats along with all the fixin's. It's a wonderful time to get together with friends and family, recall the events of the week, and support all the players who participated in this year's tournament. Come for tennis, stay for the food!
The Sundae Serve
Sunday, August 7th @ 3pm
Join tennis friends to watch the finals of the tournament, and enjoy a sundae compliments of the Robinson Committee!
Awards Ceremony
Sunday, August 7th after Finals
Upon conclusion of the Finals, please join us as Robinson week is celebrated during the Awards Ceremony! All players are recognized for their tournament participation, and trophies are given to the finalists and champions. Additionally, two special awards are presented – the Francis J. Robinson Sportsmanship Award and the Mike Clary Junior Tennis Award.
All events will be held at Sanborn Park. In case of rain events will be inside the Port Huron Tennis House.